---
After some 3 hours drive time, the new Yas Marina circuit in the Emirate of Abu Dhabi has drawn the plaudits from the drivers.
The circuit is one of the most exciting new projects to hit the F1 calendar, and its proving a firm favourite with the fans too if Twitter and Facebook comments are to be believed.  Its sweeping, fast nature but some hard corners are showing that the race could be very close indeed.
The Hermann Tilke design bandwagon has certainly got back on track here.
Nico Rosberg commented; "There is no criticism. I think they have done a very good job.  It is an interesting track and every corner is unique."
Former World Champion Fernando Alonso added to Rosberg's praise  "There are some good parts of the track, like the first sector, high-speed corners, and then the last sector is a combination of very similar corners – always 90 degrees. But you enjoy it because there is always something to do on the track. There is no time to breathe."
Adrian Sutil also praised the lighting system, commenting it felt more like a night race than Singapore.
However the tunnel exit to the pitlane is causing some controversy, with near misses and concern over an accident becoming more apparent.  Ferrari driver Giancarlo Fisichella said on the subject;
"It is very difficult and a little bit dangerous. If there is an accident with two cars, I don't know if there is a space to go through. I guess we will see if there is an incident."
I must say, representing  The F1Fanatics Blog I think it's a terrific circuit, finally a decent new track.  It is like Valencia, or at least how Valencia should have been.  It makes Singapore look almost amateur, and with the cool evening daylight/nightime effect I think F1 is on to a winner.
---
Heikki Kovalainen showed his best sign yet of trying to cling with both hands to his McLaren seat for 2010 with a startling performance in FP2 on the new Abu Dhabi F1 circuit.
The Finn was some 2 tenths faster than team mate Lewis Hamilton as the chrome McLaren's dominated the second practice session.
Kimi Raikkonen gained some hope for Ferrari with 10th, while Robert Kubica's day ended with flames as his BMW engine gave up.
Pos  Driver       Team                       Time              Laps
 1.  Kovalainen   McLaren-Mercedes      (B)  1:41.307            35
 2.  Hamilton     McLaren-Mercedes      (B)  1:41.504  + 0.197   34
 3.  Button       Brawn-Mercedes        (B)  1:41.541  + 0.234   39
 4.  Vettel       Red Bull-Renault      (B)  1:41.591  + 0.284   37
 5.  Kobayashi    Toyota                (B)  1:41.636  + 0.329   34
 6.  Buemi        Toro Rosso-Ferrari    (B)  1:41.683  + 0.376   37
 7.  Webber       Red Bull-Renault      (B)  1:41.684  + 0.377   34
 8.  Barrichello  Brawn-Mercedes        (B)  1:41.831  + 0.524   38
 9.  Rosberg      Williams-Toyota       (B)  1:41.931  + 0.624   39
10.  Raikkonen    Ferrari               (B)  1:41.987  + 0.680   39
11.  Sutil        Force India-Mercedes  (B)  1:42.180  + 0.873   28
12.  Nakajima     Williams-Toyota       (B)  1:42.245  + 0.938   36
13.  Heidfeld     BMW-Sauber            (B)  1:42.278  + 0.971   36
14.  Trulli       Toyota                (B)  1:42.409  + 1.102   30
15.  Liuzzi       Force India-Mercedes  (B)  1:42.530  + 1.223   33
16.  Alonso       Renault               (B)  1:42.782  + 1.475   29
17.  Fisichella   Ferrari               (B)  1:42.932  + 1.625   37
18.  Grosjean     Renault               (B)  1:43.021  + 1.714   37
19.  Alguersuari  Toro Rosso-Ferrari    (B)  1:43.022  + 1.715   39
20.  Kubica       BMW-Sauber            (B)  1:43.708  + 2.401   13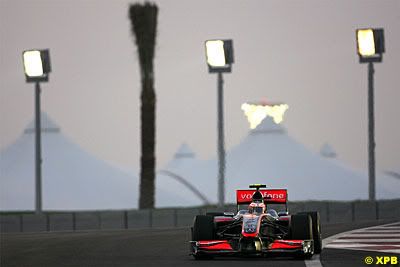 ---
---