David Richards, the boss of the Prodrive performance company has said he will not attempt to enter Formula One again in 2011.
The former boss of British American Racing and the Subaru World Rally Team has tried twice before t gain entry, being successful for 2008 but failing to make the grid, and being unsuccessful for an entry for this season when Manor, Campos and USF1 were allowed entry.
He says there is little point in attempting to gain entry again, with the difficulties surrounding starting a fresh team, under new regulations and trying to find sponsors while the economy is still struggling financially.  Richards added he wanted to focus on his companies re-entry into WRC, which could be with the new Mini car, and also their large Le Mans project under the Gulf Aston Martin banner.
"Our current focus is on Prodrive's return to the World Rally Championship in 2011 and that alone takes significant resource to design and develop a totally new car," said Richards.
"Taking on the challenge of starting a brand new Formula 1 team, finding the necessary funding and developing the car from scratch is a massive undertaking and not to be under estimated.
"As expected, we've witnessed the financial and technical challenges that the new teams have faced this year in just getting to the grid, let alone being competitive and whilst I have enormous admiration for their efforts I don't believe this is an appropriate strategy for Prodrive or Aston Martin to adopt."
He added: "We've enjoyed a successful involvement in F1 in the past and respect the value it can create; we will therefore keep a close eye on developments in the championship.
"However, I have always made it very clear that the timing for a Prodrive entry would be judged on two criteria: that we could be competitive and that the business case would make it a financially viable proposition. Today, if we were to adopt the strategy of starting a new team, I don't believe it is possible to meet these two conditions."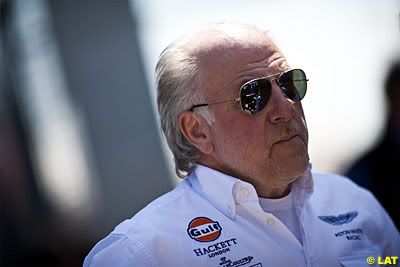 ---
David Richards completely dispelled rumours that he would buy the remains of the Honda F1 Team today by stating he hoped they found a buyer before the start of the season, but that it would not be him.
The motor racing veteran has decided against purchasing the team in the current economic climate, especially with dark clouds hanging over the British supercar manufacturer Aston Martin which he also owns.
It will be sad not to see Richards back in the pitlane, whose most recent F1 extroverts were with the BAR Honda team, and subsequently with the Prodrive F1 Team which never quite took off.
"I really hope there is a solution there because there are a lot of great people at that team." Richards told Autosport in an exclusive interview.
"It is a team that should be racing and I am still a great supporter of Jenson Button. I think he has never had his fair opportunity to shine and show his true talents.
"But being realistic, in the current world, it's going to be a very difficult uphill battle."
Meanwhile, despite no buyer being found Norbert Haug of Mercedes Benz claims that their engine offer is still on the table and will be for the foreseeable future.
"The timing is anything else but fantastic, but we can still do it. There is not a deadline like tomorrow or next week, but time is running." Haug said.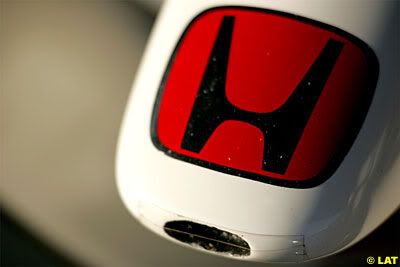 For Richards though, today was cause for a small celebration.
His Aston Martin company have unveiled ambitious plans to design and build a Le Mans Prototype car capable of winning the entire Le Mans 24h Endurance Race.
Richards has entered various Aston Martin DBR9′s in recent years into the GT1 category and they have achieved much success.  Aston Martin have sold cars onto customers who get frequent race wins in various GT1 series' around the world.  At Autosport International show, Prodrive, Richards' motorsport company took the covers of an Aston Martin Vantage GT4 to conincide with their Vantage GT2 car allowing them to race in lots of categories and series'.
However, this is the first indicaiton that they are going all out to win the 24h title.
Audi and Peugeot have been at the top of the standings for many years, especially now with their diesel powered cars.  But in 2003 Bentley won the 24h race, and with new regulations to make diesel and petrol powered cars more alike in the race for competition, Aston's V12 project seems viable.
"How on earth did we get here? How could Aston Martin be so audacious as to go to Le Mans and challenge the benchmark teams with their turbo-diesel engines and the record of experience that they have had over the last years?" said Richards.
"2009 is a hugely significant year for Aston Martin at Le Mans and the challenge of reclaiming victory in this famous race for Aston Martin and Great Britain was simply too great to ignore. It's a leap of faith and a step into the unknown for us, it really is a David and Goliath exercise, but it is that British fighting spirit that we are going to give it a try and see what we can do.
"However, we do not underestimate the task. While we have won the GT1 class for the last two years, competing against the proven speed and endurance of the diesel-powered cars, with all their years of winning the prototype class, will be a massive undertaking. But one thing is for certain that unless you give it a go, you are not going to achieve anything."
The car will be painted in Gulf racing colours, a classic racer scheme.  There are likely to be 3 cars entered, but only 5 drivers have been confirmed; Stefan Muecke, Jan Charoz, Thomas Enge, Harold Primat and Darren Turner.  With Honda not finding a buyer, could Jenson Button come into the team?  Or maybe even Anthony Davidson?
---