The GPDA have announced they will be lobbying the FIA and the officials at Circuit de Catalunya to make changes to turn 9 at the track after a series of accidents.
Heikki Kovalainen was involved in a huge shunt at the corner, his car hitting the wall well over 120mph despite gravel, and burying the Finn with his MP4-23 underneath the tyre barrier, like Luciano Burti's accident at Spa in 2001.
Sebastien Bourdais also destroyed his STR3 in testing at the circuit on that corner, delaying work on the new car.
Now the GPDA want changes, with bigger run off areas being high on the agenda.
"We need to make the run off there a bit bigger," said Mark Webber, who is a big campaigner for improved safety in F1.
"(Sebastien) Bourdais also had a crash there in a testing and we need to look at it.
"The run-off on the exit of the corner is good, but not so on the entry. If you have a problem on the way in, there is not enough run off.
"But we will learn from the accident and we'll move the barriers back next year I am sure."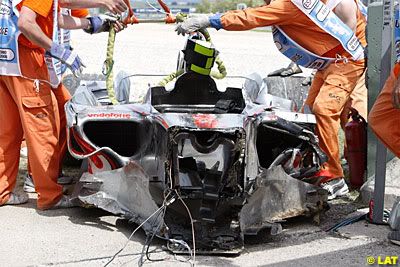 ---
Kimi Raikkonen put in the lap of his life as he stole pole position from the grasps of Fernando Alonso this afternoon.
The Spaniard had set his best lap, head and shoulders clear and as he crossed the line he threw his fist into the air, the fans from Catalonia went wild and all thought he was on pole.
Then the Iceman came through and really doused their fire with water, and set a stonking lap in the Ferrari, which looks supreme.
Robert Kubica had held top spot for a short time but will have to settle for 4th, on the dirty side after being displaced by Felipe Massa who wasn't hooking up quite as well as Raikkonen.
McLaren make up the third row, and they should be concerned for the race tomorrow.
Piquet made it home in 10th, the first time he had ever been in Q3.
Rubens Barrichello just missed out, again, but admitted he had pushed the Honda as fast as he could and was satisfied with the result he had got.  Rubens was a few tenths faster than Jenson Button, who after a strong Q1 seemed to fall away through Q2.
Sebastien Bourdais made it into Q2, a fabulous effort in the departing STR2B.  His team mate Vettel didn't to well again, not good when the eyes of Ferrari are upon you.
Fisichella and Sutil showed good early pace in Q1, but were outclassed again and didn't make it into Q2, having to settle for 19th and 20th.
Unsuprisingly, the Aguri's were at the back as their future still looks bleak, and it is all going down to a Honda meeting.
Time Table
| | | | | | |
| --- | --- | --- | --- | --- | --- |
| Pos | Driver | Team | Q1 | Q2 | Q3 |
| 1 | K. Raikkonen | Ferrari | 1.20.701 | 1.20.784 | 1.21.813 |
| 2 | F. Alonso | Renault | 1.21.347 | 1.20.804 | 1.21.904 |
| 3 | F. Massa | Ferrari | 1.21.528 | 1.20.584 | 1.22.058 |
| 4 | R. Kubica | BMW | 1.21.423 | 1.20.597 | 1.22.065 |
| 5 | L. Hamilton | McLaren | 1.21.366 | 1.20.825 | 1.22.096 |
| 6 | H. Kovalainen | McLaren | 1.21.430 | 1.20.817 | 1.22.231 |
| 7 | M. Webber | Red Bull | 1.21.494 | 1.20.984 | 1.22.429 |
| 8 | J. Trulli | Toyota | 1.21.158 | 1.20.907 | 1.22.529 |
| 9 | N. Heidfeld | BMW | 1.21.466 | 1.20.815 | 1.22.524 |
| 10 | N. Piquet | Renault | 1.21.409 | 1.20.894 | 1.22.699 |
| 11 | R. Barrichello | Honda | 1.21.548 | 1.21.049 |   |
| 12 | K. Nakajima | Williams | 1.21.690 | 1.21.117 |   |
| 13 | J. Button | Honda | 1.21.757 | 1.21.221 |   |
| 14 | T. Glock | Toyota | 1.21.427 | 1.21.230 |   |
| 15 | N. Rosberg | Williams | 1.21.472 | 1.21.349 |   |
| 16 | S. Bourdais | STR | 1.21.540 | 1.21.724 |   |
| 17 | D. Coulthard | Red Bull | 1.21.810 |   |   |
| 18 | S. Vettel | STR | 1.22.108 |   |   |
| 19 | G. Fisichella | Force India | 1.22.516 |   |   |
| 20 | A. Sutil | Force India | 1.23.224 |   |   |
| 21 | A. Davidson | S Aguri | 1.23.318 |   |   |
| 22 | T. Sato | S Aguri | 1.23.496 |   |   |
---