The GPDA have announced they will be lobbying the FIA and the officials at Circuit de Catalunya to make changes to turn 9 at the track after a series of accidents.
Heikki Kovalainen was involved in a huge shunt at the corner, his car hitting the wall well over 120mph despite gravel, and burying the Finn with his MP4-23 underneath the tyre barrier, like Luciano Burti's accident at Spa in 2001.
Sebastien Bourdais also destroyed his STR3 in testing at the circuit on that corner, delaying work on the new car.
Now the GPDA want changes, with bigger run off areas being high on the agenda.
"We need to make the run off there a bit bigger," said Mark Webber, who is a big campaigner for improved safety in F1.
"(Sebastien) Bourdais also had a crash there in a testing and we need to look at it.
"The run-off on the exit of the corner is good, but not so on the entry. If you have a problem on the way in, there is not enough run off.
"But we will learn from the accident and we'll move the barriers back next year I am sure."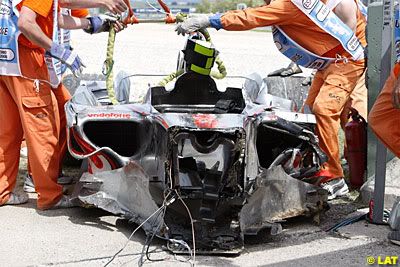 ---