The FIA have announced that Ferrari will come before the World Motorsport Council hearing on September 8th.
Ferrari are being called before Formula One's highest court for allegedly breaking rule 39.1, which states that team orders are not allowed in any form within the sport.   The incident in question occured at the German Grand Prix two weeks ago, when Felipe Massa was allegedly asked to move aside so that Fernando Alonso could win the race.
Ferrari were immediately fined $100,000 and could face further penalties.
There was significant furor at the time of the incident, but it is now being called into question over whether they actually did break the rule or not.  They did make one car move aside for the other, but the indication from Bernie Ecclestone (who sits on the judging panel) was that the rule  is in place not to stop a team deciding which order their cars finish but moreover to stop two teams working together to fix the result of a race.
With the hearing only a matter of days before the Italian Grand Prix, it is likely any penalty will be met with distaste from the Italian Tifosi fans.
---
Bernie Ecclestone, the owner of Formula One says that the team orders ban in Formula One must be dropped following the incident in last weekend's German Grand Prix where Ferrari switched Felipe Massa and Fernando Alonso so that the Spaniard could win the Grand Prix.
Team orders had been banned in F1 since 2002 thanks to a similar incident involving Ferrari, although there have always been allegations of secret orders through many top teams since the ban.
In the wake of last Sunday's events though, Ecclestone believes it is at the team discretion to have their drivers finish in a particular order, believing F1 to be a team sport rather than one of the individual.
"I must confess I would agree with anyone who thinks that [the team orders rule should be dropped]," said Ecclestone. "We make people call it a team, we say it's got be a team.
"All the cars have to be exactly the same, the drivers wear the same overalls, so everybody has to look like a team – a team of people that are racing.
"I believe what people do when they are inside the team, and how they run their team is up to them. That's my opinion."
When asked if he would push for the rule to be dropped in his high profile position of power within the sport, he added "I don't know, we'll have to see. It's something that needs to be discussed.
"As far as I'm concerned a team is a team, and they should run it whichever way they want to run it.
"Nobody should interfere as to how they run their team.
"But of course if they do something that's dangerous then obviously they're going to be in trouble, otherwise get on with it."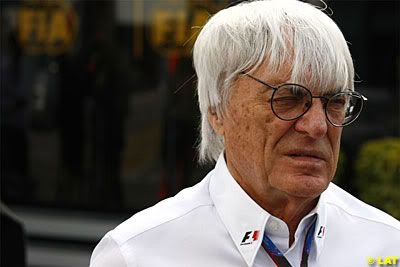 ---
---