---
Formula One driver past and present have had real fun racing in the BMW M1 Procar revival which is being held this weekend alongside the F1 at Hockenheim.
The popular German born series saw drivers racing coupe BMW's, with 500bhp under the bonnet. The cars had notorious paint schemes alongside their beautiful looks.
The pole sitter was Jochen Neerpasch in the "Art Car" but the race was won by Austrian Niki Lauda, who said he hadn't had as much fun in years, and is considering his decision to retire from motorsport all those years ago!
"It was such a hoot," said three-time F1 champion Niki Lauda.
"We were allowed to drive how we wanted, we didn't have to hold back on the pace. Actually, we should have been chasing Jochen Neerpasch in the M1 Art Car, but he didn't get off to a proper start.
"And that gave me a clear run ahead. I'm going to have to seriously reconsider whether my career really is over! It was great fun,"
Fellow Austrian Christian Klien was in awe of driving against the greats, and in awe of the car "I've always wanted to race against Niki Lauda," said Klien. "It's amazing the handling these cars already had back in the 80s. Even today they feel quite advanced. And as for the sound, it's out of this world."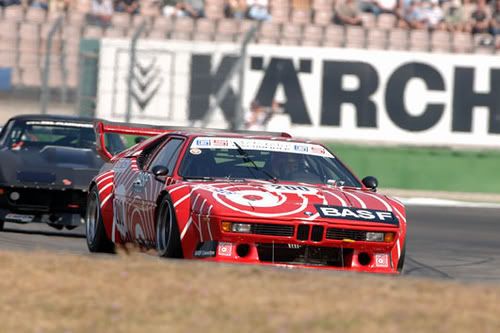 ---