---
---
---
---
---
---
---
---
---
---
---
---
---
---
---
Lewis Hamilton emerged the surprise victor of the 2010 Turkish Grand Prix following a collision between the two Red Bull drivers which left World Championship hopeful Mark Webber languishing in third place.   Jenson Button finished 2nd making it a McLaren 1-2.
Race Review
The race temperatures were hot as we got the first anti-clockwise race event of the year underway.   There was little incident into the first corner, a surprise considering recent activity.  Perhaps because Jarno Trulli was so far back this year, or maybe because of Giancarlo Fisichella's absence.
Drivers traded places through the first few turns with little or no overtaking moves sticking, most notable was Rubens Barrichello who went down to 20th place.  Sebastien Buemi and Adrian Sutil had a slight coming together around turn 3, the Swiss driver had to pit immediately for emergency repairs but the Force India driver kept on going.
The first part of the race was relatively quiet, and somewhat boring in a similar fashion to the lacklustre Spanish Grand Prix a month ago.  The Ferrari of Fernando Alonso pitted early onto the harder compounds, the under-peforming in qualifying Spanish driver was set in for a long run.
Lewis Hamilton, at this point in 2nd place thought the pitstops would give him an advantage, instead he didn't have a clean stop and ended up behind Vettel's Red Bull, now 3rd place was all he could hope for as the Red Bull's held a theoretical 1st and 2nd.  Only Button stayed out slightly longer, but the World Champion ended up in 4th after his stop behind his team mate.
Rain was predicted but never arrived, the drivers who were stuck behind Nico Rosberg would have been after that shower if only to move the mobile Mercedes chicane.  Rosberg was lapping slower than Kovalainen and Alguersuari at one point, not catching his team mate Michael Schumacher who was having a quiet and consistent race in 5th.  It hampered the chances of Kubica, Massa, Petrov and Alonso.
Unfortunately for the best new team Lotus, both of their cars retired on laps 33 and 34 thanks to hydraulic failure.  It had been a positive weekend for the Norfolk/Malaysian based outfit who were within half a second of Scuderia Toro Rosso in practice.
Lap 40 was the exciting one however.  On the back straight, the Red Bull of Sebastian Vettel slipstreamed team mate Mark Webber, the young German slotted his car down the inside but as they both hit the rev limiters in 7th gear, Vettel's rear flew over Webber's car sending them both spinning off onto the run off area.  Vettel's arms flew out of the car with surprise, anger and shock – he was to retire with a rear puncture.  Webber narrowly avoided the spinning German and had to pit for emergency front wing repairs.
Hamilton and Button, who traded places in a beautiful turn 10 to turn 2 set of moves could hardly believe their luck.  However with Hamilton ahead, it was revealed the cars were low on fuel due to the heat and the laps where they attempted to match Red Bull pace.  The pairing would have to limp to the end of the race on an economy run.
Alonso and Petrov got ina  tangle around turn 3, with Alonso grabbing 8th place while Petrov got a puncture for hitting the Spaniard.  Kamui Kobayashi and Adrian Sutil traded places for 9th and 10th, the Japanese driver ending up with 10th place and a point – at last!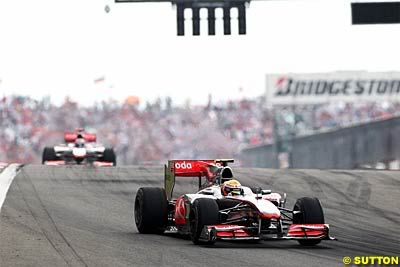 Classified Results
| | | | |
| --- | --- | --- | --- |
| Pos | Driver | Team | Time |
| 1 | L. Hamilton | McLaren Mercedes | 1.28.47.620 |
| 2 | J. Button | McLaren Mercedes | +2.645 |
| 3 | M. Webber | Red Bull Renault | +24.285 |
| 4 | M. Schumacher | Mercedes GP | +31.110 |
| 5 | N. Rosberg | Mercedes GP | +32.266 |
| 6 | R. Kubica | Renault | +32.824 |
| 7 | F. Massa | Ferrari | +36.635 |
| 8 | F. Alonso | Ferrari | +46.544 |
| 9 | A. Sutil | Force India Mercedes | +49.029 |
| 10 | K. Kobayashi | Sauber Ferrari | +1.05.650 |
| 11 | P. De la Rosa | Sauber Ferrari | +1.05.944 |
| 12 | J. Alguersuari | Toro Rosso Ferrari | +1.07.800 |
| 13 | V. Liuzzi | Force India Mercedes | +1 lap |
| 14 | R. Barrichello | Williams Cosworth | +1 lap |
| 15 | V. Petrov | Renault | +1 lap |
| 16 | S. Buemi | Toro Rosso Ferrari | +1 lap |
| 17 | N. Hulkenberg | Williams Cosworth | +1 lap |
| 18 | T. Glock | Virgin Cosworth | + 2 laps |
| 19 | L. di Grassi | Virgin Cosworth | +3 laps |
Retirements
| | | | |
| --- | --- | --- | --- |
| Driver | Team | Lap | Reason |
| K. Chandhok | Hispania HRT Cosworth | 53 | Unknown |
| B. Senna | Hispania HRT Cosworth | 47 | Unknown |
| S. Vettel | Red Bull Renault | 40 | Accident |
| H. Kovalainen | Lotus Cosworth | 34 | Hydraulic |
| J. Trulli | Lotus Cosworth | 33 | Hydraulic |
Post Race Interviews
L. Hamilton – McLaren Mercedes (1st): "Red Bull made it tough for us and we put up a good fight. You can see how close it is between the four of us. It's down to momentum, and we will do the best we can to win both championships.  We have been ragging their tails for some time. It's such an achievement for us, to really be able to take the battle to them. They had one strength that was particularly good here, we had a strength here, and we didn't know how it would pan here.  Me and Jenson were able to compete with them and push our hardest to be on their tails. To get our second 1-2 is fantastic."
J. Button – McLaren Mercedes (2nd):  "The pace of our car was very good and it was great to be battling with the Red Bulls.  So many times we have seen them disappear into the distance.  I had a battle with Lewis at the end," added the Briton, who also made contact with his team-mate while battling for the lead.  We were both told to save fuel but it's always difficult to know how much and when Lewis got back past me I was told to keep saving and I think it got a bit critical towards the end."
M. Webber – Red Bull Renault (3rd):  "Seb had good a top speed advantage and he went down the inside. We were side by side and then looks kike he turned pretty quickly to the right and we made contact.  It definitely happened fast. It's a shame for the team, but not an ideal day. The McLarens were solid today. It was good race between all four of us up until then.  Neither want to make contact but it can happen sometimes when both are in front. It is never ideal but it happened."
M. Schumacher – Mercedes Benz (4th): "My race started as I had hoped when I was able to catch Jenson right at the start.  Unfortunately, I did not have a lot of grip with the tyres as the formation lap was quite slow and the pressures had gone down which, combined with the top speed of the McLarens, meant that I could not hold Jenson behind me for long.   I was even struggling to keep the car on the track during the first lap. From there onwards, I was in my starting position and when Sebastian retired, we were able to pick up a place. That was about it. It was a straightforward race for me without any more possibilities."
F. Alonso – Ferrari (8th):  "We have been a bit surprised, as both in Barcelona and here we were not too competitive.  All race Felipe fought with Rosberg and I fought with Petrov, so we are at Renault's level, which is obviously not enough.  We have an improvement for Canada and then for Valencia we have a bigger package. But we know McLaren and Red Bull are very far away, and we don't know if that's enough, so we have to work very hard."
K. Kobayashi – Sauber Ferrari (10th): "I am very happy that we finished the race with both cars and got the first point.  In the end I could see from the car the canvas on the front right tyre. Therefore I started to be very careful, especially in turn 8, and that's also the reason why I didn't defend any harder against Adrian Sutil."
V. Petrov – Renault (15th): "Although I'm disappointed to miss out on points today, I really enjoyed the race and the car felt really good.  During the race I thought there was a chance of rain, which would have made things interesting, but in the end it was very light and didn't have a big impact on things. At the end of the race my tyres were really worn when I was fighting with Alonso."
S. Vettel – Red Bull Renault (Ret): "Obviously, I think if you look at the pictures it was clear I had the inside.  I went on the inside, I was ahead and just going down to focus on the braking point and honestly, you can see we touched and he touched my right rear wheel and I went off.  There is no fight. This is something that happens. We do not need it but there is nothing we can do now.  Obviously I am not very happy, I was inside focusing on the braking point, we touched and that was it."
May 30, 2010 | Categories: 2010 Race Weekends, F1 News | Tags: 2010 Turkish Grand Prix, Fernando Alonso, Jenson Button, Lewis Hamilton, Mark Webber, Michael Schumacher, Sebastian Vettel | Leave A Comment »
---
---
---
---
---
---
---
---
---