Fernando Alonso became the first ever F1 driver to win a night race event in Singapore yesterday, taking the chequered flag and bringing the curtain down on a bizarre weekend of racing.
The circuit felt like Monaco under lights, and as a spectacle i feel will never fail to delight.
Alonso took his first win of the season, getting back to winning ways making good overtakes and running his own race well.
Williams' Nico Rosberg finished second, despite having a penalty and Lewis Hamilton hung onto 3rd.
Massa started well for Ferrari, pulling away from Hamilton. Alonso was lagging down the midfield. Despite being left behind in the early stages, Kimi Raikkonen pushed hard and set a series of fast laps.
Vettel and Glock made ground as Kubica and Kovalaienen bashed each other on the opening laps.
Then on lap 14, Nelson Piquet had a nasty shunt indeed smashing into the concrete and destroying the one side of his Renault. Fortunately, he's okay.
Coulthard, Webber and Barrichello all dived for the pits and got out fine, but Rosberg and Kubica were forced in with no fuel and received penalties, another example of this completely daft rule.
Massa had a complete drama in the pitlane, pulling away and taking the fuel rig with him like Christijan Albers did in France 2007. He stopped at the end of the pitlane and mechanics rushed to his aide. TO be fair, Massa should have won and this was where he lost the crown.
When some other drivers pitted late on, Alonso found himself first well ahead of Rosberg who held off former lower league rival Hamilton brilliantly.
Sutil smashed his car off the track when Massa spun, another incident for the pair.
Glock finished 4th, Vettel in just 5th this time ahead of Heidfeld, Coulthard and Nakajima who made up the points.
Raikkonen smashed the Ferrari up late on.
Race Results
Singaporean Grand Prix;
61 Laps;
Weather: Dry
| | | | |
| --- | --- | --- | --- |
| Pos | Driver | Team | Time |
| 1 | F. Alonso | Renault | 1.57.16.304 |
| 2 | N. Rosberg | Williams | +2.957 |
| 3 | L. Hamilton | McLaren | +5.197 |
| 4 | T. Glock | Toyota | +8.155 |
| 5 | S. Vettel | Toro Rosso | +10.268 |
| 6 | N. Heidfeld | BMW Sauber | +11.101 |
| 7 | D. Coulthard | Red Bull | +16.387 |
| 8 | K. Nakajima | Williams | +18.489 |
| 9 | J. Button | Honda | +19.885 |
| 10 | H. Kovalainen | McLaren | +26.902 |
| 11 | R. Kubica | BMW Sauber | +27.975 |
| 12 | S. Bourdais | Toro Rosso | +29.432 |
| 13 | F. Massa | Ferrari | +35.170 |
| 14 | G. Fisichella | Force India | +43.571 |
| 15 | K. Raikkonen | Ferrari | +4 laps |
Fastest Lap: K. Raikkonen, Ferrari: 1.45.599
Retirements
| | | | |
| --- | --- | --- | --- |
| Driver | Team | Lap | Reason |
| J. Trulli | Toyota | 51 | Gearbox |
| A. Sutil | Force India | 50 | Crash |
| M. Webber | Red Bull | 30 | Mechanical |
| R. Barrichello | Honda | 15 | Mechanical |
| N. Piquet | Renault | 14 | Crash |
My apologies for lack of posts this weekend, i was somewhere where i couldnt get internet access. Sorry! Full sevrices resumed and sidebar updates later :)
---
Sebastien Bourdais has declared himself stunned at the amazing track that is Singapore.
The small location is going to be hitting the headlines as it is the first ever F1 night race, something Bourdais has plenty of experience of from ChampCar World Series.
"It is daylight," Bourdais told Autosport as preparations continued at the Marina Bay circuit on Wednesday.
"The most unbelievable job they have done is with the lighting. It is quite impressive. You have all these structures built around the place, all overhead. It's quite impressive – I have never seen anything like it."
After allaying fears about the lighting of the circuit, which has led many leading drivers to doubt the viability of the race, he admitted concerns about the tight hairpin at turn 10 and some about the pitlane entry.
"I'm quite impressed. It is obviously a huge undertaking when you have to build from scratch, but I think they did really well.
"The only thing I am a bit bewildered by is the chicane (at Turn 10) that they have put together. I can see why they have done it because there is no run off there, and it would be a fast and open corner if you did not do something, but even so!
"We had a similar problem in Champ Car when they were trying to prevent cars from short cutting chicanes at Monterrey, and the things were half the size of what they are right now – and we were smashing the tubs there left and right.
"Since you don't go and buy a Lola or whatever it is these days in F1, you cannot really afford to damage cars. I haven't seen Charlie (Whiting, F1 race director) yet, but I am a bit surprised. There are fixes for this though.
"The pit entry also seems to be a bit dodgy. You will be running quite a bit quicker than the guy who is going to pit, and you are all going to get to the same point because the entry is just hard left.
"So these are my only two concerns – otherwise the rest of the track is really nicely done. It is a nice track."
---
After being confirmed as the first Night Race venue on the Formula One calendar for 2008, Singapore have announced that they are ready and relishing the challenge.
It will be staged on a street track around the Marina in the area, and has been looked at by FIA officials before being confirmed as a viable option for F1.
"With two positive lighting tests under our belt, we are on track to delivering the first night race," Colin Syn, deputy chairman of the promoter, said in the statement.
Being in the timezone that it is of course, we in Europe shall view the race in the afternoon, an interesting and exciting prospect that i cannot wait for!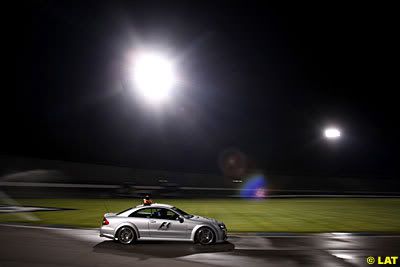 ---